Print Management Guide - Internet printing
Internet printing provides a way to submit print jobs to a printer across the Internet. For example, you can send your company's new catalog directly to your publisher's printer, providing you have your publisher's printer name and the proper permission. You can also use this technology with your local area network (LAN) or intranet.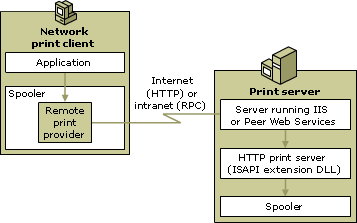 To install a printer from the Internet you use the printer's URL as the name of the printer. Administrators can also use the URL format within an intranet.


For a computer running a Windows Server operating system and Windows client to process print jobs that contain URLs, it must be running Microsoft Internet Information Services (IIS).


Internet printing uses Internet Printing Protocol (IPP) as its low-level protocol, which is encapsulated within HTTP, using it as a carrier. When accessing a printer through a browser, the system first attempts to connect using RPC (on Intranets and LANs), which is fast and efficient.


Print server security is provided by IIS. To support all browsers and all Internet clients, the administrator must choose basic authentication. Alternatively, the administrator can use Microsoft challenge/response or Kerberos authentication, both of which are supported by Microsoft Internet Explorer.


You can manage printers from any browser, but you must use Internet Explorer version 4.0 or higher to be able to connect to a printer using a browser.